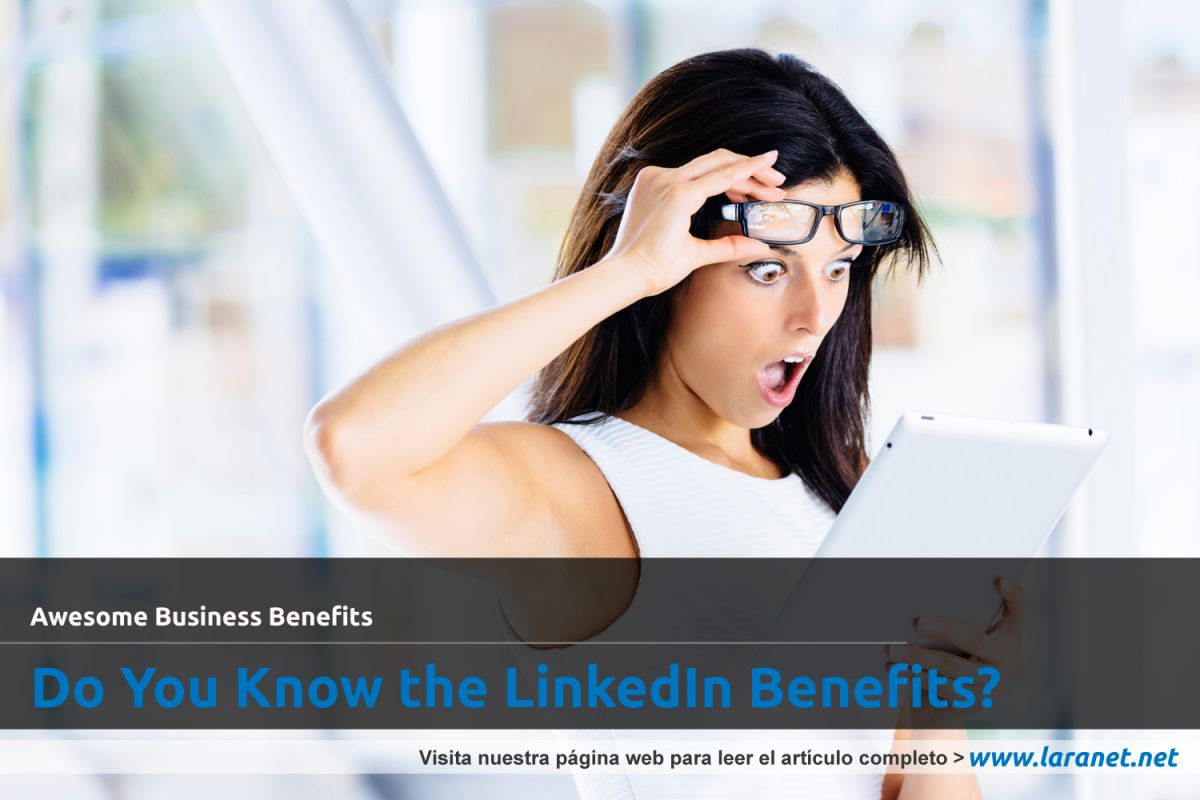 Do You Know the LinkedIn Benefits?
Awesome Business Benefits
There are 259.000.000 of users
1 in every 27 people in the world is a LinkedIn user
Exist 2.100.000 Linkedin groups
1 LinkedIn user joins an average of 7 groups
Per month exits 184.000.000 unique visitors
Every day are 172.000 new signups
Per minute exist 200 conversations and 7610 searches
LinkedIn has 3 higher visitor to lead conversation rate than Twitter and Facebook
37.2 % of business increased their branding and marketing presence
37.6 % of business have built new relationships with customers
44.5 % have increased their face to face networking effectiveness
94 % of recruiters use LinkedIn to examine potential candidates.
About LaraNet: We are a web design firm focused to help you to grow your business and communicate with your customers and prospects using two simple but powerful tools: 1) Interactive Website and 2) Internet Marketing Strategy on social networks like Facebook, YouTube, Twitter, LinkedIn, etc …
Whether you want to work with just a web page, or launch or improve your presence on Facebook, Google+, LinkedIn or communicate with your customers through newsletters, or improve the location of your business in the search engines through Search Engine Optimization, or start marketing your products or services online, in LaraNet we can help you.
Keywords: Website designer in Houston, Web Designer in Houston, Web Site Developer in Houston, Webmaster in Houston, Internet Marketing Agency in Houston, Website Consultant in Houston, Enrique Antonio Lara Vidales, LaraNet, Web Design in Houston, Website Development in Houston, Open Source Content Management, Internet Marketing Services, Houston Small Business Websites, Integrated Internet Marketing, Content Marketing Specialist, Community Manager Specialist, Houston Internet
| | | |
| --- | --- | --- |
| Register now to receive my weekly BLOG on your email! | | Enrique Lara |